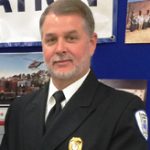 Statement from our Director
Clay Catoe, Director
I would like to welcome you to the Lancaster County EMS Website. I hope you find it informative as you learn about the services we provide to our county. Lancaster County EMS takes pride in providing professional service to Lancaster County and its visitors. Lancaster County EMS strives to be on the cutting edge of Emergency Health Care. Our Medics undergo a battery of National, State and County continuing educational programs to maintain the highest level of skills. To supplement those trainings , we regularly send medics to state competitions to increase teamwork and networking within our state. Lancaster County EMS is comprised of 50 Paramedics, 7 Advanced EMTs, and 24 EMTs. Twenty Five Medics are crossed trained in High Angle/Low Angle Rescue, Search and Rescue, Swift Water Rescue and make up the Lancaster County EMS STAR Team which can be deployed for these specialized rescues. Our website only provides a small amount of info on our service. If you have any questions or suggestions, please feel free to contact us.
Want to join our team?
Lancaster County EMS is currently accepting applications. We are a high performance, industry leading organization that provides employees with the best tools and training anywhere in EMS. Lancaster County EMS values hard work, ingenuity, teamwork and an unyielding commitment to patient care. On a daily basis our staff cares for our county citizens and visitors with the commitment to providing the best available emergency care possible. The work we do at LCEMS is challenging, rewarding, and highly valued by the community we serve. Does this sound like the type of Agency that you would like to work for? If so, we definitely want to hear from you. Lancaster County EMS is currently accepting applications for part-time Paramedic, Advanced Emergency Medical Technician, and Emergency Medical Technician. All candidates must have a current South Carolina and a National Registry Certification. Candidates must pass a pre-employment drug screening, provide a valid Driver's License with a 10 year driving history, as well as a SLED background check. Visit
www.mylancastersc.org/
for application information or contact Human Resources at 803-416-9423. Candidates must provide documentation verifying their eligibility credentials with the completed application.
``The time is always right to do what is right!``